Time flies and we often don't hear any news about our German Shepherd owners who left and now live far away. One of our members was Daphne McDowall.
I can't remember all her dogs, but do know about her keen trading and entering her dog Jutta.
She got Jutta in 1987 who was a pup from Tanah Merah Diana  and Gero com Trei Madelhaus [Imported form Belgium].
Daphne entered Jutta many times and was so dedicated. In 2006 she got Wuckey, named her Nicky? who was form Bakhari of Barchaelo [imported from S Africa] and Tanah Merah Rambutan.
Fairly soon Daphne immigrated to Australia to live with her son on the East coast, Nicky then came to live with Daphne's daughter Susan.
A few weeks back Daphne got bad flu which turned into bad pneumonia. Because of this she had a vey bad cough which caused to get her a strangulated hernia, poor girl. Had to have the hernia operated on and had a heart attack. She was in ICU for over a week.
Susan managed to get a flight to Australia to be with her and thank goodness all went well and she is now home again recuperating. Still weak and frail, but I believe all is going slowly better.
We all remember her from those days and whish her all the best and some good times to come.
On the home front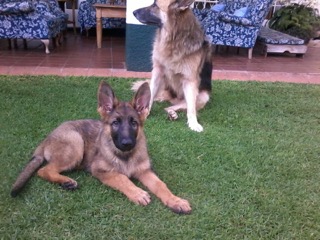 A lovely new arrival in Zimbabwe. Wucky passed away and Susan now has a wonderful new addition to her other Shepherd. How great that we have still so many true lovers of our breed. Enjoy her Susan and have a good time with her as soon as you get back from your Mum